500,000+ Radio Streams, Site Adjustments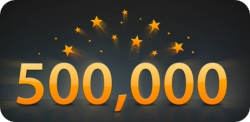 First, I would like to thank all of our loyal radio listeners for helping us reach our latest milestone: 500,000 songs streamed! I'm glad to see people enjoying our radio and using the site, as it has been rather quiet around here.

We are in the progress of a site slim-down to re-focus on the important and useful parts of our site. Our radio, game music lyrics, polls, forums and possibly music reviews will remain, while the rest of the site (FMVs, gaming news and reviews) will be archived and retired. We have many ideas, but the lack of design talents and artistic flair do slow things down a little bit. Do you have talents in image design and website design (CSS)? Please do not hesitate to contact us. We could use some help! Unfortunately, all positions here at RPGN are non-paying positions, but your work will be displayed here on RPGN for all to enjoy! If you think you might be able to help, please drop by our IRC chatroom or drop me an email (admin -at- rpgamers.net).
0 Comments
Sorry, comments are closed because article is over 90 days old.