Super Knights now available for free!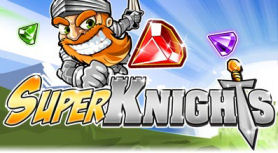 When kidnapped princesses are in distress, when dangerous dragons, scary ghosts and ugly witches need to be fought, when the world is in peril and you need a hero who are you going to call? The Super Knights!

Who doesn't like free games? Our friends over at Focus Home Interactive have just let us know that one of their recent titles are now available free of charge! You no longer have any excuse for not playing Super Knights, as long as you own an iPhone or iPad! (as it's currently only available in the Apple app store, but the website says it's coming soon to Google play!)

This scoring app released earlier this summer has been praised by the press and players worldwide, thanks to a simple yet addictive gameplay, and a really fun atmosphere: players grapple and swing around anchor points to fill pockets with sparkly gems, collect treasures, save princesses and dodge the attacks of countless enemies! This unique and addictive game mechanic quickly captivated players, who try to reach higher scores and unlock even more power-ups! Head on over to the official website knights-roundcable.com to check out the trailer and download the game!
0 Comments
Sorry, comments are closed because article is over 90 days old.