Microsoft Press Event at E3 2011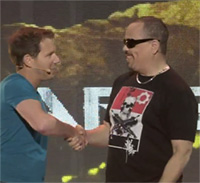 As you may or may not know, E3 is happening this year as well. Like, right now. You should know, because I just wrote a little pre-E3 thing about Konami.
Anyways, I've been watching all the live streams of various press events that happened on Monday, and here's a summary of what happened Micorsoft, who was the first. Why don't I just list all the things they talked about first? Yeah, sounds good right?

Call of Duty: Modern Warfare 3
Tomb Raider (reboot)
EA Sports
Mass Effect 3 with Kinect voice command support
Ghost Recon Future Soldier with Kinect support, plus all future Tom Clancy games would have Kinect support
New Xbox 360 dashboard that launches fall 2011 with support for Youtube, Bing, Live TV, also better Kinect support
UFC fights that you can watch on Xbox, or something like that
Cliffy B and Ice T on stage playing Gears of War 3
Kinect game from Crytek (makers of FarCry an Crysis) called Ryse. At least it's not called Cryse.
Halo Anniversary edition, a HD remastered Halo 1 basically
Forza 4, cars cars cars with Kinect support
Fable: The Journey for Kinect, on rails shooter by the looks it
Minecraft for Kinect
Disneyland Adventures for Kinect, some kind of minigame collection
Star Wars for Kinect
Sesame Street: Once Upon a Monster for Kinect
Kinect Fun Labs, Microsoft's own Kinect developer environment thing
Kinect Sports Season 2
Dance Central 2 for Kinect
Halo 4, the start of a new trilogy

So that's the list. That's a lot of Kinect, which I couldn't give two shits about. Well, to be fair, a lot of the titles with Kinect support don't require it, so they could still be worth of my time. How about the other stuff then? Modern Warfare 3 looks pretty much like all modern Call of Duty titles have looked like. No surprises there at all. Mass Effect 3 with Kinect support... sure, the idea is neat I guess. But I'll talk about Mass Effect 3 more in the EA post. Same with Future Soldier, Kinect support seems okayish, but not really necessary, and I'll talk about the game more in Ubi post. Gears of War 3 looks like Gears of War, no surprises. It looks like they are upping the ante a lot, and the Unreal Engine looks better than ever. Halo Anniversary edition, well, I guess it's neat. I played through Halo way back when, and they are definitely doing a lot to this game to bring it up the HD, that's about all I can say about that. Also, Halo 4. Start of a new trilogy they say, starring Master Chief again. I guess 343 Industries had to do something. Not too excited about that.

From the games, I'm probably most interested in the Tomb Raider reboot. I like the way it looks for sure, and I'm very curious to find out more. They showed a brief cave gameplay section, but it's hard to say what the final game is going to be about, apparently it's open world jungle or something. I'm looking forward to finding out more. Still not digging the new voice actress though. I heard a rumor that it's Keira Knightley, but I honestly can't tell.

Other interesting thing is the new Dashboard that will launch in Fall 2011. Since the release of first big dash update, they have been bolting on more and more things to it, it has become this massive bloated thing and none of it really works intuitively. So it makes perfect sense that they would refresh it now. It also seems like they are trying to finish the Kinect support for dash that they started with the last update. They only showcased some of the Kinect voice command support and introduced more features like YouTube and Microsoft's own search engine Bing. And some kind of Live TV support, but that's going to be so region specific that I didn't really pay too much attention.

And I guess that's about the end of Microsoft's thing.
0 Comments
Sorry, comments are closed because article is over 90 days old.