Steam "Perils of Summer" sale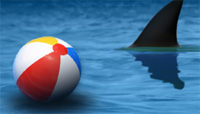 Just a quickie here, Steam has a sale happening for the next week and half dubbed Perils of Summer. Here's a quote from the news item at Steam.

Quote:
Each year millions of people are lured outdoors by the long, sun-drenched days of summer. With so many people spending the bulk of their time outside, it dramatically raises their risk of getting hurt. We urge you to play it safe, stay inside and save big with the "Perils of Summer" sale beginning today on Steam. Through July 4, gamers will find massive savings on today's top releases, classic titles, and publisher catalogs. In addition, special 1-day sales will offer discounts up to 90% off regular prices. Don't get caught without your sunscreen, the savings are hot.
So basically it looks like it's the same kind of system as the last holiday sales were. Crazy awesome daily deals and some more general but still awesome package deals as well as publisher catalog deals that span the entire sale period. At the time of this writing the first daily deals have 1 hour and 30 minutes left on them, remember to check back every day to see what the daily deals are.
I feel like I'm losing money just by not buying something every day.
0 Comments
Sorry, comments are closed because article is over 90 days old.