Lufia DS remake coming to North America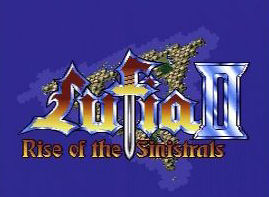 It's been a long time since I first played the Lufia series, I remember picking up a copy of Lufia and the Fortress of Doom for SNES and I was instantly hooked. This remake actually bases itself from the second game, which is actually a prequel to the first game... still a good game, but just doesn't top the original! The Estpolis Biographies II soundtrack (which covers music from both the first and second game) is one of my favourite albums as well. Good games, good music, what more do you need? Anyways, getting off track here, on with the news:

After a long wait, Lufia is returning to North America as a Nintendo DS release. Natsume announced today that they have not forgotten their North American fans, and will be localizing the latest game in the series.

"We're elated that the beloved Lufia series will be making its triumphant return with Lufia: Curse of the Sinistrals later this year," said Natsume CEO Hiro Maekawa. "We know players are going to be excited about this title when they get their first peek at it at E3 next month."

I definitely plan to give this game a try when it becomes available later this fall. Current media I have seen for it shows they did make some pretty major changes to the game, but hopefully not so much that the original classic has been lost entirely.
1 Comment
Sorry, comments are closed because article is over 90 days old.