Pokémon HeartGold and SoulSilver released in North America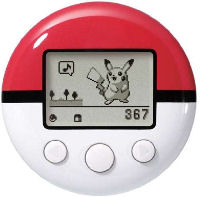 Nintendo has brought us some remake goodness today, officially releasing two new Pokémon games to the Nintendo DS line-up in North America, dubbed Pokémon HeartGold and Pokémon SoulSilver. If you haven't guessed yet, these are enhanced remakes of the 1999 video games Pokémon Gold and Silver for the original GameBoy. These new games were previously released in Japan back on September 12th, 2009 and have been commercially successful thus far, selling over 2 million units in the first six weeks. The game is still awaiting release in Australia (March 25th, 2010) and Europe (March 26th, 2010).

This time around the games are bundled with the Pokéwalker, the pedometer device pictured with this article. It interacts with the Nintendo DS game card via infrared signals and can hold one of your Pokémon characters. Walking with the Pokéwalker while it contains one of your Pokémon increases its experience and closeness. The device cannot be used to transfer Pokémon to other games however, as it will only return the Pokémon to the game card it came from. As you walk, you also earn "watts," a type of in-game currency that can be used to catch wild Pokémon and shop for items. The Pokéwalkers can also communicate with each other, allowing each player to get a free gift! So far it appears that this added bonus has not increased the retail game price as compared to previous titles.

Some rom dumps of the North American versions of the games were spotted online a few days prior to their official release by the release group Xenophobia. So far however, it seems that Nintendo's anti-piracy protection has been effective in causing random crashes for gamers trying to dive into the adventure early.

Pokémon HeartGold and SoulSilver can access the Nintendo Wi-Fi Connection and are also fully compatible with Pokémon Diamond, Pearl, and Platinum games. Feel free to post your friend codes in the comments, as I plan to play through the SoulSilver version and wouldn't mind battling fellow visitors!



Gotta catch 'em all!
6 Comments
Sorry, comments are closed because article is over 90 days old.