McDonald's in Japan to train new employees using a Nintendo DS and eSmart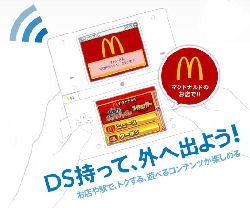 It sounds crazy, but McDonald's restaurants in Japan believe using the Nintendo DS as an employee training tool will cut training time by half when compared to conventional methods. They are currently developing a proprietary software for the DS known as "eSmart". New part-time employees will be trained using software.

Nintendo already has strong ties to McDonald's over in Japan by offering the Nintendo Zone service in its restaurants, which allows customers to grab game demos, information and other exclusive content directly to their handhelds. I guess the employees wanted in on the action too! McDonald's plans to place two DS consoles at each of its locations in Japan, which totals up to about 7,400 new consoles. Excluding the software development, they estimate the program will cost about 200 million yen ($2.2 million USD).

I wonder which edition of the DS they will be using (DS/DSi/DSi XL), and if the systems will have a cool custom skin. Probably not. I hope we get a peek at the software once its ready, I am curious what it will teach and how this will be more effective then 'traditional' training.
0 Comments
Sorry, comments are closed because article is over 90 days old.